Here I go again with the same song and dance. I need to blog more, it's been another month. Brody is napping and yes, instead of cleaning or folding laundry, I'm doing something more fun. Thanks to
Mama Kat
for the writing prompt!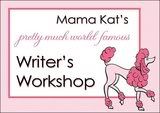 I recently updated my About Us (Me) page on my website.
Hi Y'all, I'm Shannon and I am the owner of Texas-based Lavish Bliss Boutique - your source for funky, fabulous and oh-so-fun products for the girly-girl in your life! I am married to my high school sweetheart, Tim and we have three beautiful mini-me's: Blake (10), Sydney (6) and Brody (22 months). From a very young age, I can remember having an interest in all things girly! I loved to play with dress-up clothes, my little plastic high-heel shoes, jewelry, purses, make-up, dolls and I loved watching Miss USA! Fast-forward to many years later, I am still very much interested in fashion, accessories, the latest must-haves and finding unique items.
In college, I chose to major in Marketing and worked for Compaq/Hewlett-Packard for 10 years. During that time, I always dreamed of having my own business (thanks to my dad's advice and his entrepreneurial spirit that rubbed off on me)! In October of 2006, I decided it was time for a change. My babies were growing up way too fast and I knew I would never get the time back with them. At work, our group was going through another round of layoffs and I knew this was my time to go! I volunteered to leave, so I took the package and ran!! It was a tough decision to walk away, but one that I will never regret!
I learned from an early age how to be crafty and creative from my mom. She made my sister Stephanie and I all kinds of cute things as kids. After I stopped working full-time, I soon found that I once again had time for projects that were put off for years. I started making things for my daughter. Friends and family took notice and asked for me to make girly goodies for them. It turned into a passion and what better way to turn your passion into a business! That's when Lavish Bliss Boutique was born! Sydney is the inspiration for all my designs. It's so fun to have my own girly-girl!!
tHiNgS ThAt MaKe mE HaPpY: My Lord and Savior Jesus Christ, my family and friends, crisp Autumn days, cupcakes, Target, decorating, the color pink, traveling, gardening, blue skies, photography, Mexican food, cooking and baking, lip gloss, Halloween, Christmas, anything with leopard print, The Young and the Restless, Pumpkin Spice lattes, baseball, jazz music, a good pedicure, sugar cookie and spice candles, Sonic Strawberry Limeades, Anthropologie, Black House White Market, reading trash mags, my glitter and hot glue gun, a warm blanket fresh out of the dryer.....what about you?