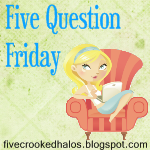 TGIF is all I can say, it's been a crazy week here in my household and a week of recovering after seven games of baseball in 95 degree Texas heat over three days. A week full of kids fighting, baby refusing to nap and sleep at night, endless dirty diapers, a messy house, mounds and mounds of laundry, messy counters, and now, this momma needs a nice, long holiday weekend to chill out before our Baseball World Series begins next week for seven endless days!!!
1. What is one thing you miss the most about childhood?
Having absolutely NO cares in the world is what I miss most about childhood. I can't just pick ONE thing, I have too many and have to list them!! Having everyone do stuff for you was the best!! Mom and Dad catered to our every whim - bought my clothes, groceries, cooked my dinner, washed my clothes. I loved playing until dark (with no fear of child predators or kidnappers), had no worries about money, played all day with friends during the summer, swimming all day, spending the night out, skating at the skating rink and not actually thinking the music is too loud, Silver Spoons,

Diff'rent

Strokes,

Punky

Brewster, Three's Company,

CHiPs

, Gimme a Break, Little House on the Prairie, Wonder Woman, Saturday morning cartoons - they were the best, going to

AstroWorld

, watching The Goodyear Blimp fly over our house at nighttime all lit up in the fall and going to dinner as a family at J. Christopher's - they had the best pizza and they have since closed. I loved my childhood and hope I can create wonderful memories for my own kids so they can look back and think I had a lot of fun growing up!
2. Are you still friends with your friends from high school?
Yes and No. My really good friends from high school are far away and not close to where I live. Thanks to

Facebook

, I have stayed in touch with them but I wouldn't say we are close anymore. Since I haven't moved away from where my high school is, I run into people all the time. I love it!! It's so fun to see them with kids now and how they turned out.
3. Is there a catch phrase, cliche, or word that just drives you bonkers every time you hear it?
"It is what it is", facetious,

Festiva

(as in Ford), pupil, nosh, spasm, tresses, sushi to name some. I'm sure I can come up with some more, pressure, pressure to get my blog post finished!
4. What is one thing that you think symbolizes America...besides "Old Glory"
The Statue of Liberty, the city of Boston, baseball, apple pie and freedom.
5. What are your 4th of July weekend plans?
Well, since we have been gone the last two weekends watching my brother's baseball and having our own baseball games, I am looking forward to a low-key kind of weekend. My sister's new pool is all finished up and we will probably hang out at the pool with family, watch fireworks and try out some new recipes. I made a July 4th tutu for Sydney and need to get some cute pictures of her wearing it. That's all, nothing fancy.