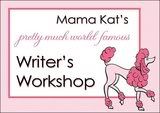 I follow Mama Kat on
Twitter
and saw her writing prompts. Here's the one that I chose...
30 things I vow to do this summer (seeing that I have three kids (10, 6 and 18 months), this is subject to change and I will do a blog post at the end of the summer to see what I actually accomplished!
1. Read two books, either Danielle Steele or Sandra Browne. It's been over a year since I've read a book!
2. Do my fall projects now so I don't kick myself that another year went by without adding some new decor to the house.
3. Do fun and really messy, gooey, ickey, slimey experiments/projects with the kids.
4. Lose 1 pound per month.
5. Make dinner at least 4-5 times per week.
6. Take an online photography class.
8. Get a new laptop since my other one is toast after only two years. :-(
9. Take a weekend family getaway somewhere in Texas.
10. Paint and re-do hallway bathroom, pick a new paint color and add new framed mirrors and updated lights.
11. Read a lot with the kids and take them to the library each week so this summer they actually get the Summer Reading Certificate and free book for the reading all their books!
12. Decoupage and fix up my old childhood desk to put in Sydney's room.
13. Pay it Forward (#13-#15) - surprise one unsuspecting clerk who is extra friendly, smiles, is nice, not rude, who actually greets me and talks to me and loves their job. Give them a little reward for having a great attitude regardless of their minimum wage job.
14. Pay for the person behind me at the toll booth.
15. Pay for the person behind me in the fast food lane.
16. Continue taking Blake and Sydney on dates. They need to know they are special and they deserve some one-on-one time with their momma since our daily lives are so crazy!
17. Take the beginner Photoshop online class my sister gave me for Christmas.
18. Soak in the bathtub uninterrupted reading one of my books from #1.
19. Sign Brody up for Mother's Day Out for the fall.
20. Get to sleep early at least twice a week, these 2am bedtimes are killing me (well it's now actually 3:36 am as I'm typing, I'm in trouble tomorrow)!!
21. Help the kids plant their vegetable/flower garden.
22. Call my best childhood friend and talk instead of e-mailing or Facebooking, call my parents, brothers and in-laws more.
23. Make some funky camera straps for my camera.
24. Go to Barnes and Nobles by myself once a week to read, escape and come home a refreshed momma.
25. Find a babysitter so Tim and I can go on some dates and have more late night snuggle time catching up on all kinds of DVR shows!!
26. Hunt for new recipes to try each week instead of eating the same old stuff, this will help with #5!
27. Do a kid swap with my sister...I take her three, she takes my three for the day - that way I get to spend quality time doing something different with my nieces and nephew.
28. Go downtown for lunch one day so the kids can eat lunch with their daddy.
29. Go to the beach again with the entire family (parents, brother, my sister's family), we had so much fun when we did that over Memorial Day weekend.
30. And last on the list...try not to sweat the small stuff and enjoy every day I have with the kids during the summer, school will be here again before we know it!