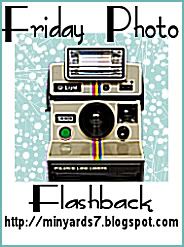 I scanned in some pictures for Alicia's Friday Photo Flashback. When I think of ALL the photos I have in albums before I went digital, it makes me stressed. One of the new projects on the to do list is to scan all of my albums. I know it will take forever but all I can do is take it one book at a time! Here are some old school photos, they make me laugh!
Homecoming 1987. Love the yellow socks and braces! This mum is tiny compared to the ones the girls in Texas wear these days!!
Christmas 1988 - Another braces picture. Love the acid washed jean jacket and jeans. I took it a bit far with the jeans on top and bottom look...wouldn't do that today. Also, I must have been into side pony tails!
Prom 1991 - I utterly hate this picture and can't believe I'm even posting it - so embarrasing! I still bring it out every now and then to show Tim how silly we looked. The minute I saw this backdrop, I was so disappointed, c'mon now three balloons and some roses?! A kid could have put a better backdrop together!! Hot pink was and still is my favorite color! I must have been using too much baby oil and iodine, I look sooo orange and my hair looks like a mushroom. Tim has the bang action going, too funny! Real men wear pink!!
Summer 1993 - My hair was short and sooo dark. My sister called my hair blue because it was so dark! Used to wear gold jewelry back then and the red nails uhhhhggg!! My finger nails look like they are from a Barbra Streisand/Mike Myers skit on Saturday Night Live! And who wears panty hose anymore??? I want to be that skinny again!
December 1996 - Our first married Christmas together, I still love this picture. We were just married about six weeks prior on November 9th. My hair was so dark here too before grays and going blonde! Wish I still had those eyebrows that I plucked away when thin eyebrows became popular during the 2000's.